Serious Sam VR: The Last Hope (PC)
Have you ever wondered what it's really like to be Serious Sam? Have you ever wanted to fight Mental's alien hordes with your own two hands? Well, now you can! Step into the shoes of the Earth Defense Force's greatest hero in this unique VR simulation based on Sam Stone's own log files from his time as captain of the Battlecruiser Saratoga. Experience the missions that turned Captain Stone into the legend that he is today.Key Features at Early Access Launch:
Tons of enemies – Hordes of attacking enemies have always been a trademark of the Serious Sam series, and Serious Sam: The Last Hope continues to deliver countless terrors in just one scene, harnessing the serious power of the Serious Engine 4.5.
Tons of guns – Dual-wield miniguns, tommy guns, heavy lasers, shotguns, and an assortment of other guns. Oh, and chainsaws, too! More then 10 different weapons, including the rocket launcher, will be available from the beginning of Early Access, and Sam's lethal armory will be regularly expanded in future updates.
Planet-hopping action – Battle across treacherous Egyptian sands, in the pitch-dark under ancient ruins, and on the surface of Pladeon, the long-abandoned heart of a great industrial civilization. Early Access starts with two planets, each with four different locations, while more of Sam's adventures across the galaxy will become available in future updates.
Dick's back, too! - Featuring the voice of Serious Sam, John. J. Dick, dropping one-liners as you drop enemies.
Cry for Mummy – Defeat Mental's most powerful servants, starting with the Unholy Space Mummy of Gamma Pegasi, a huge, terrifying, undead monstrosity brought to life with dark magic - as dangerous as it is smelly! And that's just the first boss.
Hyper-immersive realism – Graphics so good that if you die in the simulation, you die in the real world!*
*Might or might not be entirely true. But we tested it and we're pretty sure it works the other way around.Updated Features since Early Access Launch:

Oculus Touch Support - Full support for Oculus Rift and Oculus Touch on SteamVR.
Mixed Reality Setup Wizard - https://youtu.be/c_An0vxvPnk
nVidia VR SLI - Full support for nVidia VR SLI.
Coop Mode - Play campaign with your friend online.
More Difficulty Settings - Two new difficulty settings: Tourist and Serious (both in single player and coop mode).
New Planet: Shaanti - 3rd planet (Shaanti) with four different locations and five difficulty settings 3 new game mechanics, 9 new enemies and 1 new boss.
Localization - Added Chinese text.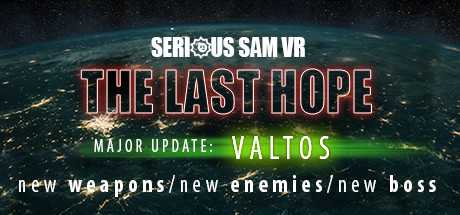 Fecha de salida
Octubre 17, 2016
SOs compatibles

Windows
Entrada
Controladores de movimiento