Tarzan VR Issue #1 - "The Great Ape" (PC)
Become Lord of the Jungle!
TARZAN VR™ is an episodic single-player adventure allowing players to explore their wild side by becoming the great ape-man himself — face your fears, uncover hidden secrets, and swing through the jungle in a pulse-pounding fight for survival in a game of exploration, discovery and adventure unlike any other.

You will swing, climb, swim, and fight your way across expansive environments, each with its own story to tell, dangers to survive, and secrets to discover.

Issue #1:  "The Great Ape" — After Jane is abducted by a group of invaders, Tarzan must seek the wisdom of the Great Ape in order to uncover the identity and motives of her mysterious captors. Wield "The Mighty Axe" and swing across the jungle to save your one true love and protect your jungle home!

Issue #1 also grants access to Tarzan's expansive treehouse and home island where it's all about having fun! Discover artifacts, play games, and explore the natural wonder across the deepest corners of Tarzan's untamed world — almost a game within itself!

Issues #2 "The Jagged Edge" (available now) & #3 "The Dead of Night" (available soon) can be purchased episodically — each unlocking NEW weapons, difficult obstacles, menacing enemies, and more surprises as the adventure continues.

Face your greatest fears and experience the full story over multiple chapters!SWING LIKE TARZANSWINGING - Swing effortlessly from vine to vine across spectacular landscapes. Swing "Hand over Hand" to incrementally increase swing speeds.
CLIMBING - Scale trees to climb high into the jungle canopy to survey your surroundings.
SWIMMING - Use powerful swimming skills to navigate ocean currents and avoid dangerous underwater threats.
FIGHTING- Use items such as spears, bows, axes... and even your fists!UNIQUE JUNGLE SKILLEARTH VISION - Use enhanced sight to reveal hidden paths within the jungle, or track your enemies (consumable).Become a real jungle warrior!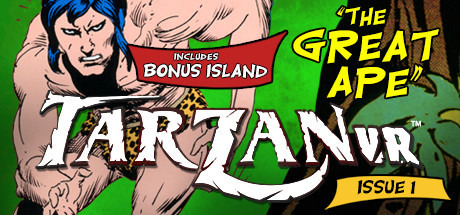 Fecha de salida
Noviembre 17, 2020
SOs compatibles

Windows
Entrada
Controladores de movimiento
Idiomas
Textos en español

Voces en inglés

Textos en inglés