You rush out the door, late as usual. If you're lucky, enough green lights will get you to work on time… that is until traffic comes to a complete stop! Ughhh!

Drivers around you begin to honk their horns. You reach to do the same, but something happens. Suddenly, YOU are the traffic cop!

This Virtual Reality experience transports you back to the 1950's and puts you smack dab in the middle of a busy intersection on duty as the local traffic cop!

In this 360 degree environment, keep traffic flowing by routing cars through the intersection. Beware, this isn't your typical city center.

Against the clock, strategize how to get the most cars through. Make sure the speed demon and the little old lady from Pasadena don't crash into each other! All the while watching out for drivers with road rage; nobody wants a burger thrown in their face! But just in case, you can always duck, dodge, or catch!

You are fully equipped with everything you need to survive your shift; your trusty sling-shot, ray gun, and an arm that would make Babe Ruth jealous.

Don't be a square! Check out this action packed Virtual Reality Game, with something for every type of gamer - time management, strategy, & shooter. It's a real wiz bang!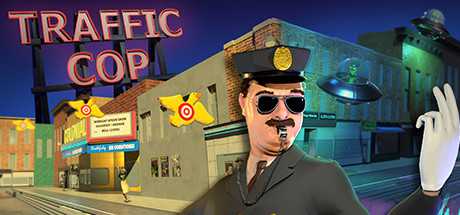 Fecha de salida
Febrero 1, 2018
SOs compatibles

Windows
HMDs compatibles

Steam VR
Entrada
Controladores de movimiento
Forma de juego
Escala de habitación