Desert Bus is back and better than ever! The 1998 Penn and Teller cult hit mini-game is coming to virtual reality, so you can fully immerse yourself in the thrilling eight-hour trip from Arizona to Nevada. It's almost like you're driving the "wheel" thing! Desert Bus VR can also be played in standard digital reality if you don't own a VR headset.

FEATURES

Put the Pedal to the Metal
Show everyone who rules the road as you take the wheel of a commercial passenger bus. With blistering speeds of up to 45mph and a prominent passenger side misalignment, only the hardest drivers can make it to Nevada and back!

Getting Towed Has Never Been More Fun
Experience the realistic consequences of driving off the road with a tow service that takes you back to the start in real time!

Play Non-Stop for Hours of Amusement
Enjoy the action-packed eight-hour road trip from Tuscon to Las Vegas. When you make it to Nevada, turn around and do it all again!

Fill the Crushing, Oppressive Silence
Tune in to a variety of engaging radio programs, including one featuring the dulcet tones of Penn Jillette himself. You can even turn the radio on and off!

Get the Authentic Bus Driving Experience
Learn what it's like to be a REAL bus driver with exciting gameplay that allows you to honk the horn and open the bus door! Tap the fully-interactive air freshener for some hardcore, pine-scented* action!

*Purchase of air freshener required for full effect.

Join Your Friends on This Road Trip
Play with up to four friends in Desert Bus VR's groundbreaking new multiplayer mode. Passengers can sit, wave, and even throw wads of paper at the driver!


Desert Bus for Hope
Desert Bus VR was made in-part to support Desert Bus for Hope, a volunteer organization that holds the eponymous annual event to raise money for game industry charity Child's Play. Participants play Desert Bus in a telethon-style stream, with others pledging donations in exchange for incentives that can include everything from prizes to increasing the length of the Desert Bus play time.

Desert Bus VR released on November 27, 2017 – the date selected by Robert "DoctorBobtastic" Nix, the winning donor during the Desert Bus for Hope 2017 "Choose the Desert Bus VR Release Date" charity drive. November 27th is also Robert's birthday, so if you see him on that day this year, or any other year for that matter, be sure to give him a nice, big cake.

He also chose to make the driver's default signature Bill "BWOS" Watt, a tribute to the late LoadingReadyRun crew member. This will be patched in with a future update that also includes the winning stickers Desert Bus Sticker Art donation drive. Thanks to the great artists who contributed!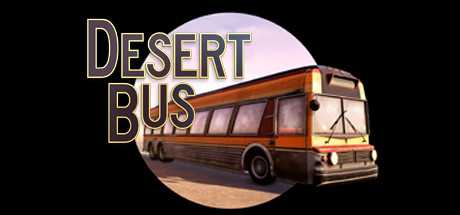 Fecha de salida
Noviembre 27, 2017
SOs compatibles

Windows