The Survival Test VR: Defend To Death (PC)
《The Survival Test VR:Defend To Death》 is VR horror shooting game of zombie theme.

Survival & Defense
In this game, players survive in one difficulty level after another. You have to face groups of zombies and find all kinds of resources in the level, to create a variety of weapons and equipment to defense you home. You have only one goal: survive!

Unmanned aerial vehicle & Robot
Fortunately, you are not lonely , unmanned aerial vehicle can help you destroy your enemy. You can command it use a variety of instructions, example ,you can command it to defensive stronghold or follow you, and you can also upgrade it to deal with a growing number of zombies.
In addition, in other levels, you can also build robot team which belong to you, they will be more powerful than UAVs, and we will update for you.

Four types of firearms & Double holding
The pistol, shotgun, submachine guns, assault rifles, the game provides four types of firearms. Each can be held in both hands. Casual collocation.
Each firearm has its own characteristics.
Pistol: unlimited bullets
Submachine gun: fast speed, low price.
Shotgun: shooting for a wide range of attack groups.
Assault rifles: big power, fast speed, high accuracy.

Cold weapon & Energy shield
If you prefer melee , you can hold the sword and fight zombies. If you are worried about be sieged with zombies, you may take energy shield on other hand. One hand sword, one hand energy shield.
Of course, you can also mix and use guns!

Machine gun & Grenade battery
At the level, players can also use live points (game currency) to build machine guns, turrets and grenade turrets, which are more powerful enough to wipe out a bunch of enemies. However, note that, don't let the zombies too close to you!

Explosives & Supplies
Grenades, mines, oil drums, bomb!
The treatment needle can heal you, and ammo boxes can provide ammunition for your guns

Remember a word: Do not save money in hand, replacing them with a variety of weapons and supplies

Dimensional backpack & Quick switching weapon
You can buy a lot of weaponry as long as you have enough survival points(Game currency).
The dimensional backpack will help you store the equipment so that you can carry it even if you're fighting.
Quick switching weapon allows you to quickly switch weapon in the dimension pack (it needs to be updated in subsequent releases and incorporated into our development plan).

Story plot & Background
From the prequel (see《The survival test VR》, is a horror shooting + puzzle game which will also free of charge and on line in Steam platform, please pay attention to) prison after the escape, you will meet the new test of survival!
H city has been captured by zombies , the surviving human can only go to the river. Before the complete withdrawal of human beings, you were ordered to hold the bridge blocking, sticking to the twelve wave of zombie invasion. However, you are not fight a lone, you have more weapons and equipment which can help you to blaze a new trail!
What will happen after that? Coming soon!

Updates later
We will continue to update this game and add more gameplay and elements, For example:
Survival model
More level
More guns.
Secret weapon
Robot team
Fast switching props
Can build fortifications
automatic fire Fort and so on.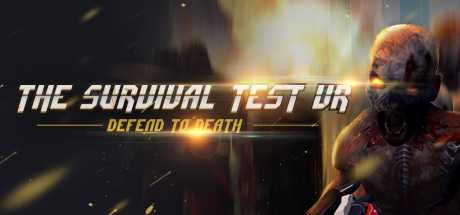 Fecha de salida
Octubre 17, 2017
SOs compatibles

Windows
HMDs compatibles

Steam VR
Entrada
Controladores de movimiento