KooringVR Wonderland:Red Queen's Black Magic (PC)
It's time to go to the "Wonderland", the world of adventure!
VR blockbuster games for families, "Kooring Wonderland VR : Red Queen's Black Magic"
The legend lasts forever! It's finally the end of the long journey of the Kooring Wonderland series. The long journey is going to be consisted with the previous games Mecadino's Attack and the Heart Castle's, the end of Red Queen's Black Magic long journey. KOORING Forever!

contains 12 mini games, with various experiences that can only be experienced in VR. Caucus-Race_Long_TaleMirrorland's Saber
Play while enjoying the music of Mirrorland's Saber!Lobster QuadrilleThe Mock Turtle's Magic Shield
Block the flying arrows with your magic shield! Remember which order the arrows or bombs fly in and block them accordingly. Petit Pig and Pepper
Attack the enemy by tickling the pig's nose with pepper and feathers on both hands.Dreamy Heart Castle
You can freely climb the fortress wall and ride the hot air balloon.Tooring Stole the Tarts!
Tooring Stole the Tarts! requires concentration and situational judgment as you should aim correctly in sequence to attack and defeat enemies.Kooring's Koorobo
Kooring's Koorobo is quite challenging. Needs accurate detection of objects moving along the guidelines from the top view to the bottomHumpty Dumpty Mad Tea PartyGarden of Live Flowers Koorobo & Toorobo
Kooring, an alien boy, goes on a journey to mysterious planet "Wonderland" together with his friend Tooring. While hungry Tooring looks for food in the "Wonderland", The Red Queen casts a spell on him and they start bullying friends in "Wonderland".
Kooring goes to Earth to look for a girl named Alice, who has super power. But Kooring couldn't meet find her and he was upset. Suddenly Kooring's crown itself starts shining bright around one person(player). The crown recognized warrior's aura and Kooring realized that Alice's descendant also holds warrior's qualification: super power! Kooring goes back to the "Wonderland" with warrior to rescue Tooring from The Red Queen…
They overcome many difficulties together with help of Petite Pig, Hatter, Lobster Quadrille on their adventure. Finally they find where the Red Queen and Tooring are… Will Kooring and the warrior defeat the Red Queen and save Tooring?!
Game Play
1) Select the age and choose gender icon
2) Point the bubble and select with controllers to play the game

Key Features
Perfectly optimized for all age groups, especially family!
Funtastic VR 12 all-in-one adventure style games
Collect the gold medals, and become the medalist!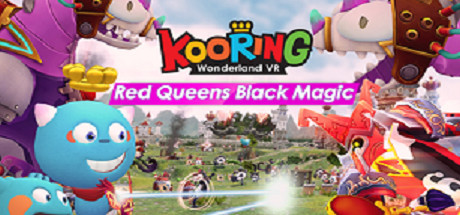 Fecha de salida
Mayo 18, 2022
SOs compatibles

Windows
Entrada
Controladores de movimiento
Idiomas
Voces en inglés

Textos en inglés