Eye of the Temple: First Steps (PC)
Eye of the Temple: First Steps is the beginning of a daring adventure in VR. Explore a vast and treacherous temple using your own feet. Keep your balance as you step from one moving block to another, dodging traps and solving puzzles with your torch and whip in hand.Traverse a Vast Environment
Eye of the Temple: First Steps makes unique use of room-scale VR and delivers the experience of exploring a vast environment. Lose yourself in the depths of the temple without teleportation, artificial locomotion, or other distractions taking you out of the immersion.Fully Physically Simulated Whip
Wield your whip to grab levers out of reach and to defend yourself against flying enemies. It may take several tries to get it right at first, but you'll find yourself gradually improving until you've mastered it as a reliable tool and effective weapon.An Experience with No Buttons Required
Eye of the Temple: First Steps is played with your body, and you never have to press any controller buttons. This makes it more physical than most games and anyone can easily grasp it whether they normally play videogames or not.Unlockable Speedrun Mode
For the extra daring adventurers, a speedrun mode can be unlocked where you can build up incredible speed, with every timed step speeding up the moving blocks a bit. Play it for a true test of your reflexes and grace, and compare your completion time with others'.



Please note!
This game requires a play area of at least 2m x 2m with 360° tracking.
Playing this game may give you a sensation of almost losing your balance when blocks you stand on start or stop moving. This will usually quickly decrease over time.
There is a small risk of actually losing your balance and falling over. Play at your own risk.
Good luck on your adventure!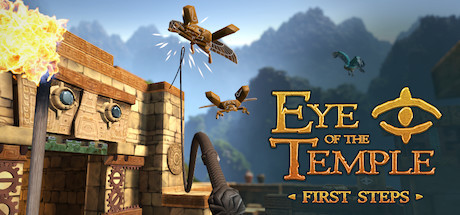 Fecha de salida
Agosto 27, 2020
SOs compatibles

Windows
Entrada
Controladores de movimiento
Forma de juego
Escala de habitación