SCIENCE SHOW VR : THE ABYSS (PC)
THE ABYSS, developed by SCIENCE SHOW, is an immersive VR game that takes rare biological samples and returns them.
The player becomes the captain of the one-man probe at THE ABYSS, protecting the probe and the player themselves from sea life in order to complete their mission safely.
The player is attacked by sharks, a herd of deep sea octopus, and a group of underwater volcanic outbursts that require quick escape from a number of crises.The plotboard a probe in the Arctic and move to the first North Atlantic exploration site.
It uses a drill to get into the sea to penetrate a hard glacier.
What is the first creature a player meets after going through a glacier into the ocean? FeaturesSupport VR Environments
English, Korean interface, and voice support
Display location and sea life information in the left and right probe window
Single Play Support
Configure total of 6 stages, 8 missions
Performing a controller-enabled mission
Provides a feeling of immersion that seems to actually be in the sea
Experience in the Arctic Ocean, North Atlantic, Kelp Forest, Pacific, etc.
Experience of deep sea, sea life experience
Experience of various sea creatures through eight missions Support VR EnvironmentsSCIENCE SHOW VR: THE ABYSS was developed based on desktop VR systems.
Therefore, 180 degrees (front) and 360 degrees tracking settings are fully supported.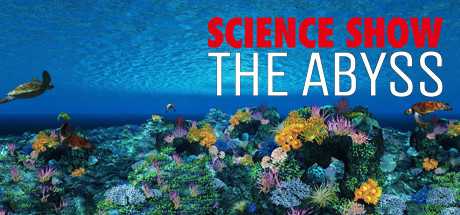 Fecha de salida
Enero 13, 2020
SOs compatibles

Windows
HMDs compatibles

Steam VR
Entrada
Controladores de movimiento
Idiomas
Voces en inglés

Textos en inglés