B. Braun Aesculap Spine VR (PC)
B. Braun Aesculap Spine VR is an interactive Virtual Realiy application that offers an overview of lumbar spinal surgery using instruments produced by B. Braun Melsungen AG, one of the world's leading providers of healthcare products. The application features two interactive surgery sequences using ENNOVATE®, a new screw model for spinal cord surgery, and XP®, a new disk implant.

The instruments were carefully rendered and programmed to allow a natural and precise interaction sequence. The environment reacts to changes in user input and to scene transitions. A special feature of the application is a level that represents the osseous tissue of the bone: Bone Land. Before entering the operating room to perform the implant surgery with XP®, the player changes to microscopic scale and travels through the bone structure. Bone Land is comprised of algorithmically generated 3D units.

Press the HTC Vive Controller Menu Button for three seconds in any scene to access the Application Menu.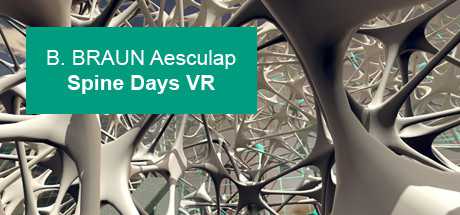 Fecha de salida
Abril 19, 2019
SOs compatibles

Windows
HMDs compatibles

Steam VR
Entrada
Controladores de movimiento
Forma de juego
Escala de habitación