Dreamland Defender is a cowboy western sci-fi game, with flying saucers, drones, spider robots, laser monoliths, and large swarms of evil critters.
It is a lighthearted game that is easy to jump into and play, yet still difficult to master.

Fight to reclaim your abducted cows in this roomscale VR game. Make your way through the desert and the canyon and finally beat the flying saucer, that stole your cows. While keeping in mind, that in this game some of the enemy AI evolve their skillsets during play, and will get better at beating you as you progress.

You will need to turn, dodge and crouch to avoid attacks, while using the environment or simple things like the bullet deflecting umbrella to shield yourself from deadly plasma bullets. By fighting your way through the desert and down through a canyon full of ambushes and obstacles, you may be able to finally defeat the large flying saucer that stole your cows, and claim the title as the one and only Dreamland Defender.

The game is designed for ease of use. Even a non-gamer may be able to pick this up and play in no time. You will be met with a challenge if you get past the first few levels, so even your hardcore gun wielding grandma may need practice to win.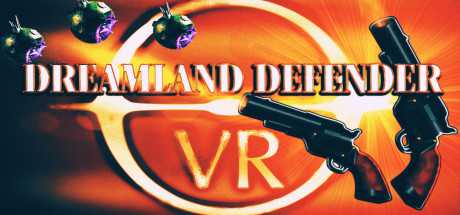 Fecha de salida
Julio 6, 2018
SOs compatibles

Windows
HMDs compatibles

Steam VR
Entrada
Controladores de movimiento
Forma de juego
Escala de habitación