VR Oktoberfest Roller Coaster Rides (PC)
**Warning: This VR title contains a rollercoaster ride and the high-speed twists and turns of the ride will likely induce nausea even in experienced VR users.**
Take a virtual ride on the best and biggest roller coasters of the Oktoberfest - Munich, Germany.
Enjoy the best the Oktoberfest has to offer - other than the beer.

Maybe in real life you wouldn't dare to - here you can!

Real 360-degree Videos - no simulation!
The roller coaster rides were recorded as real authentic 360-degree videos. They are NOT computer generated rides like in many other apps.

Virtual reality and the Oktoberfest
Your certainly know the world famous Oktoberfest in Munich, Germany.
Maybe you even visited there.
If so, you must have seen the Olympic roller coaster there.
It is not only the greatest roller coaster but the greatest attraction of the Oktoberfest altogether. Other than the beer
Just looking at it makes many people feel sick. You can hardly imagine how it feels to ride through the five huge Olympic rings, head over heels, one after another with up to 100 kilmeters an hour.
With VR glasses and this app you can enjoy this breath taking ride, safely and comfortably.
You get the real riding experience of the full 1200 meter route of the Olympia roller coaster and the other roller coasters of the Oktoberfest.
During the ride you can move your Head into every direction, even up and down. If you are sitting on a revolving chair, you can also turn around 360 degrees. This is a lot of fun and would be virtually impossible during a real roller coaster ride.
And it is totally cool that you can take the ride as often as you want to - again and again! No additional costs

Other than the Olympia roller coaster there are more rides included!: The Wilde Maus (Wild Mouse), that is famous for its sudden changes of direction and the Alpina roller coaster, another fast ride in virtual reality.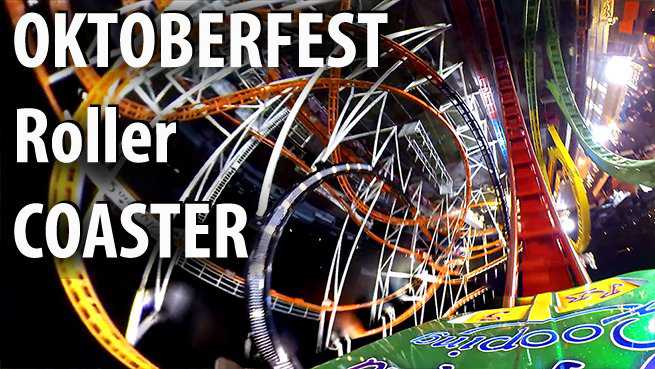 Fecha de salida
Diciembre 20, 2017
SOs compatibles

Windows
HMDs compatibles

Steam VR