GameplayGem Hunter is an action adventure platformer for the HTC Vive and Oculus Rift. Fly your Hovercraft on a quest to help recover the Fox King's stolen Diamonds and defeat the three Witch Sisters. Mine gems, battle creatures, uncover secrets, solve mysteries, customize your ship, and claim the highscore on the online speedrunning leaderboards for monthly prizes!StoryThe Fox King has hired you to reclaim the Castle's stolen Diamonds from the three Witch sisters, Dezravella, Petrichora, and Ravanna. His emissary explains that the sisters have scattered the missing Diamonds across the magical worlds contained inside each of the Castle's many Paintings. As you begin your journey by down Dezravella, a Dragon Riding Fire Witch, you discover not all is as it seems, and there may very well be two sides to this story. It is up to you to choose right and wrong: Whether you ought to fight the Witch Sisters and collect Diamonds for the Fox King, or to break oath and help Ravanna restore peace to those worlds the Diamonds have been taken from.Motion Sickness DisclaimerThis game uses Sliding Locomotion. If you are prone to VR Motion Sickness, there are Comfort Settings available in game that haven proven extremely effective for Roomscale VR players. However, for extreme cases they may not be adequate. You have been warned.Early Access Content (as of 4/14/17)2+ hours of Gameplay, across 7 unique Stages with 24 Diamonds to discover and collect.
Two fully developed Story arcs.
Competitive Speedrunning Leaderboards with monthly prizes for top scorers. Compete in both 100% or any% categories
Comfort Options: Steer your Hovercraft via Motion Controllers or by Headset. Uses Peripheral Vignetting to ease rotation.
Original Orchestral/Synth Soundtrack
Challenging & Addicting platforming & thinking puzzles
Hovercraft Customization & Upgrades: Gain the Dash Ability, find new Ammo types, change your ship's Color scheme, upgrade your Thrusters, etc.
6+ Unique enemies, ranging from Rock Golems to Flying Robot Drones, Venom-spewing Plants to Dragons.Release ScheduleThe initial Early Access release contains 7 Total Stages (6 normal Stages each with four Diamonds to collect, and 1 multi-part Boss Stage). The final game will contain at least 10 Total Stages, and 32 Diamonds to discover and collect. This would be 4-5+ Hours of gameplay. Based on current production schedules, Gem Hunter will be released May 1st. At the time of release, Gem Hunter's price will increase, so grab it now and take part in the journey to full release!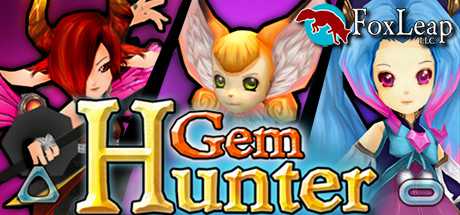 Fecha de salida
Abril 28, 2017
SOs compatibles

Windows
Entrada
Controladores de movimiento