Archipelago: Navigable VR Comic (PC)
Archipelago is a navigable VR comic containing 65 characters and 6,787 lines of dialogue. It is intended to be a family-friendly story world, suitable for all ages. It is NOT A GAME. You are placed inside a comics world as multiple stories play out in real-time around you. Unlike other VR story experiences, you are free to move around (including flying) as the story plays out. You can choose to follow any of the characters as they go about their lives on a series of islands.

Archipelago's written content is roughly equivalent to a 100 page book. It would take more than 30 hours to follow every single character from start to finish.

Note: This is a rapidly evolving way of experiencing VR stories, the idea is to eventually create many worlds in many genres. General feedback and your ideas to improve the format are very welcome.

If you are a writer or comic artist interested in using the Walkie™ comics software to create your own title, follow @walkieentertain on Twitter or message us.
(any art style can be used, not just this cartoony one.)

To be notified of upcoming next-gen (better graphics, bigger worlds etc) Walkie™ Comics, follow Walkie Entertainment on Twitter.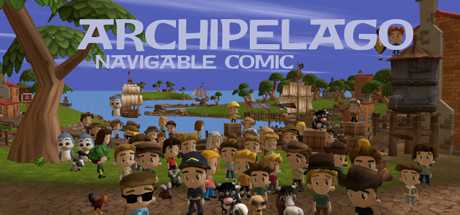 Fecha de salida
Enero 6, 2017
SOs compatibles

Windows
Entrada
Controladores de movimiento
Forma de juego

Sentado