Watching your favourite movies has never been so immersive as in our Cmoar VR Cinema! Bringing the atmosphere of your favourite cinema straight to your home enables you to relive all those exciting moments you had when you first stepped into the auditorium. Relax and enjoy those glorious battles, romantic finales, comedic moments once more in the most immersive VR Media Player on Steam!FEATURESSteam VR compatibility
Seat change ability *NEW*
Embedded subtitles and audio track support
Watching Youtube videos (1080p 2D)
Watching Youtube videos (1080p 3D)
180° & 360° video support
360° video advanced settings (rotation, distance, tilt)
PLEX support (Only Local*)
Full HTC Vive & Vive controller support
Oculus support
VR gamepad support
VR menu interface
Dynamic Lighting effect
Transitional realistic sceneries
Add every video and directory to Favourites
"Last-viewed" option
.srt subtitle system
Coming soon:
Youtube 4K support
More playback options

If you encounter any problems feel free to contact us on sboczek@cmoarstudio.com.

Dynamic Lighting
The VR Cinema enables you to fully immerse yourself in the world of virtual reality and watching your favourite movie once again has never been so realistic. Sit comfortably in your seat an allow yourself to be mesmerised by the experience.

Seat change ability
Can't see enough? Don't like your seat? Now you can change your seat in three of our environments and enjoy the movie from a completely different perspective.

Youtube & Youtube 3D
Watching videos has never been easier as now you are simply two clicks away from enjoying every Youtube video in our cinema. Whether it be Youtube or Youtube 3D, everything is within your reach.

Steam VR compatibility
Your favourite mobile VR Cinema is now available on PC. Precise motion tracking and natural controller gestures enable you to fully adopt stationary VR's advantages to enhance your experience within our virtual reality.

VR Gamepad support
Use your VR controller to fully navigate within our cinema's menu. It has never been easier to manouver through your files and search for your favourite moments. In conjuction with its precision and intuitive user interface, Cmoar VR Cinema enables you to sit back and fully enjoy the movie.

Transitional realistic sceneries (home, cinema, boat show)
If you don't like the current auditorium you can immediately make a quick switch to a cozy, comfortable room or you can quickly disable the entire environment to solely focus on the main screen. The choice is yours.

Add every movie to Favourites
With just one click you can add your most beloved movie to the Favourites label. It will always be there for you whenever you would like to quickly watch it again without all the tedious searching and selecting.


Only Local* - means that Plex server has to be on a machine that runs Cmoar VR Cinema. We're working on expanding Plex support further in the near future.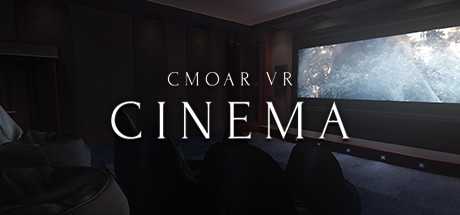 Fecha de salida
Septiembre 29, 2016
SOs compatibles

Windows
Forma de juego

Sentado