Masterpiece Studio Pro (PC)
The trailblazing Creative's real-time ready immersive 3D creation suite. From concept art to full-body avatars, quickly draw, sculpt, texture, optimize, rig, skin and animate in an entirely VR environment. Export your creations to game engines, renderers and standard animation software with ease.

FREE IS ABOUT BUILDING COMMUNITY

With the Free version of Masterpiece Studio Pro you can create with the full 3D pipeline for as long as you want for Non-Commercial Use. We've made all the current features available - all that we ask is that you pay it forward by sharing your content with the community.

All content exported with the Free version is shared on our Public Gallery. Anyone in the community can download, remix, modify and build upon work in the Public Gallery for non-commercial use.

We believe this Free version will help showcase your work, bring value to other creatives, and help build the creative community of the future!

If you want to bypass the Public Gallery at export, or use your creations for Commercial Work, we have a variety of affordable subscription plans tailored to your specific needs. With a commercial license, you can export privately, get dedicated support, and get guaranteed access to all the new features and upgrades.

MASTERPIECE STUDIO PRO includes:

MASTERPIECE CREATOR
Create 3D concepts and polished 3D sculpts, texture them and prepare them for production with mesh clean-up tools.

Key Features:
-Clay sculpting and editing tools, including a powerful move tool for reproportioning clay while retaining details
-Stamps for kitbashing and tools to build your own library of stamps like are clay selection, cut, copy, paste and stamp saving
-Mesh drawing tools for sketching and building structures with hard edges
-Scene graph and layers that can be moved, snapped, and resized for organizing your scene and getting more details our of your creations
-Precision and control tools like snapping grid, guides, gizmo, mirror and motion smoothing
-Industry-leading mesh preparation tools: clean-up, optimize, and auto-UV your models using a simple interface
-Texture painting tools to add color, texture, height, normal and emissive details to the surface of your model[/list]

MASTERPIECE MOTION
Rig, skin and animate your models and export to your favorite creative programs.

Key Features:
-Draw rigs easily in an immersive space, paste and reproportion standard rigs, or use a powerful auto-rigger for humanoids
-Skin quickly and easily with painting tools, or use our powerful auto-skinner and make fine adjustments
-Animate your model with your hands by moving the rig using IK and FK and our pose-to-pose timeline
-Export your assets with baked animations and bring them into your favorite 3D programs for animation or rendering

Be Uncommonly Creative!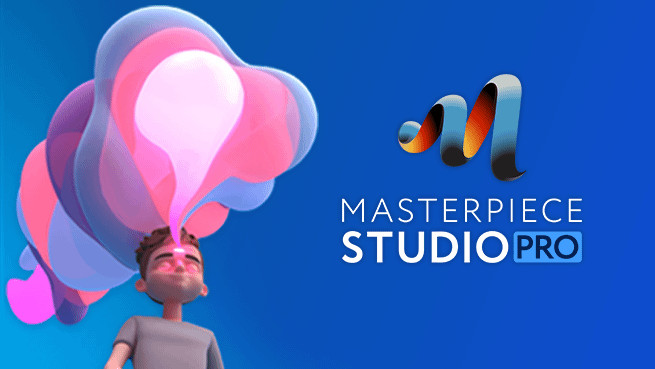 Fecha de salida
Noviembre 30, 2021
SOs compatibles

Windows
Entrada
Controladores de movimiento
Idiomas
Voces en inglés

Textos en inglés