Plunker is a short, and heavily comedy based indie VR game based on exploring for easter eggs and extremely goofy interactions with the world around you. The player investigates suspicious scenes, trying to find anything out of order. You can expect to be strung along by jokes, replayable VR minigames/puzzles with unique mechanics, and a surreal, sometimes nonsensical story. Plunker was made by one person while streaming live on Twitch.tv and also working a full 40+ hours a week for a good portion of the last three years. All of the art, all of the code, all of the ideas, all of the testing. At the end of it you've got 45~90 minutes of playtime.

Examples of Included FeaturesVR Parachuting
VR People who are mad at you
VR Interactive Farting Credits
VR Grenade-Launcher style Water Balloon Turret
Anxiety Inducing Life or Death Minigames (in VR)
Playable VR Guitar
Overly Realistic VR Bocce Ball
More!Examples of Features Not IncludedBattle Royale
Light Sabers
Puppies
Punching out your monitor by standing too close and throwing a VR bocce ball while trying to develop VR bocce ball live on Twitch (you're free to roleplay, but it's not reccomended from my own personal experiences)
Due to the comedy and surprise/reaction based nature of Plunker, it's a fantastic game to play in front of an audience!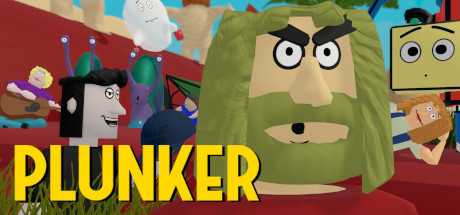 Fecha de salida
Abril 1, 2020
SOs compatibles

Windows
Entrada
Controladores de movimiento
Idiomas
Voces en inglés

Textos en inglés