POLICE RESPONSE VR : DISTURBANCE (PC)
EVER THOUGHT YOU COULD CUT IT AS AN OFFICER?
THE REAL DEAL EXPERIENCE OF BEING AN OFFICER OF THE LAW
WANT TO EXPERIENCE HOW YOU HANDLE TENSION AND CONFRONTATION THEN HERE'S YOUR OPPORTUNITY
YOUR CHANCE TO BE A UK POLICE OFFICER...

This experience is set within one room following a 999/911 DISTURBANCE report
Over 2 hours of audio no experience will be the same
Have YOU the skills to SCALE THE RANKS and reach your 30 year retirement?
MADE BY EX POLICE OFFICERS WITH OVER 30 YEARS EXPERIENCE ON THE FRONT LINE NOT BEHIND A DESK!
BASED ON REAL EXPERIENCES OF POLICE OFFICERS EVERYDAY OF THE YEAR

A POLICE report of a DISTURBANCE is a common call out. These reports can be the most bizarre and dangerous scenarios as there is often little or no intelligence and you are potentially seeing people at their very worst.

You begin your career as a POLICE RECRUIT with dreams of making it to the very top RANK.

You are partnered with an AI police officer who will do the talking. You will be stood at the front door of a private dwelling trying to establish what has gone on.

You'll be tested against a character who is the most dangerous type of person. He can be confrontational, argumentative, unpredictable, obstructive and EXTREMELY VIOLENT.

Your job as a POLICE OFFICER is to observe and react with the APPROPRIATE amount of FORCE to any THREATS or ACTIONS.

If you fail to react, over react or get assaulted during the scenario the game will fail you. 

ARMED WITH A SIDE ARM PISTOL, TASER GUN, PEPPER SPRAY AND HANDCUFFS
PERFECT YOUR SKILLS IN THE POLICE TRAINING ROOM
AIM TO SCALE THE PROMOTION RANKS WITH THE DECISIONS YOU MAKE

WIN THE GAME AND REACH, YOUR RETIREMENT! WITHOUT LOSING YOUR JOB OR YOUR LIFE!

Starting your career as a POLICE RECRUIT you'll aim to scale the ranks reaching your ultimate goal, retirement, with 30 years service without losing your job or life!

You start your journey in the POLICE locker room with options for the training room to perfect your weapon handling or straight to PATROL. Perfect your reloads with your 9MM SIDE ARM PISTOL, TASER GUN, PEPPER SPRAY and HANDCUFFS and be ready to RESPOND for what's coming!

REMEMBER YOU ARE A PROFESSIONAL OFFICER AND ALL THESE WEAPONS YOU CARRY HAVE A CONSEQUENCE IF USED SO MAKE SURE YOU USE THEM LEGALLY!

On patrol with your partner you're directed to a 999/911 call of a DISTURBANCE.
Make the right decisions and win the game or don't and lose your job and possibly your life!
Think you've heard the scene before then time to think again OFFICER!
You'll meet confrontation, there's no place to hide.
LISTEN and take APPROPRIATE ACTION to win the day and scale those Ranks.

So are you ready for the ULTIMATE CHALLENGE OFFICER?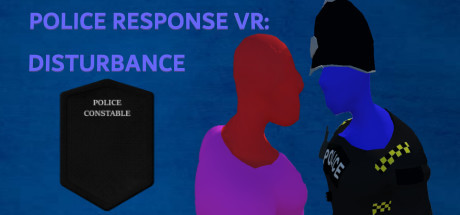 Fecha de salida
Marzo 30, 2020
SOs compatibles

Windows
Entrada
Controladores de movimiento
Idiomas
Voces en inglés

Textos en inglés