flyingshapes - Next Generation VR CAD (PC)
The Virtual Reality CAD
Create and shape industry-grade 3D models as if they were real objects right in front of you. Manipulate your design intuitively by moving the controllers in your hands. Don't waste any more time trying to find the perfect form of 3D objects on a 2D screen. You are now entering the world of flyingshapes VR CAD.

Perfect for designing products and vehicles
The creative workflow of flyingshapes has been engineered specifically for designers of industrial objects, products and vehicles. Concept modeling and form finding have never been that intuitive.

Start with a rough sketch in the virtual space around you. Thanks to VR even your very first drawing is already three-dimensional. From the very beginning onwards you experience all the dimensions of your object as if you were looking at a built prototype. Refine your design by adding lines, curves and surfaces. Shape your design with your hands by pushing here and pulling there using the controllers. Turn your object, move it around or lean over it to see it from your preferred angle.

Whether you are designing an espresso machine or a skyscraper, you will love drawing in VR space. Invite other team-members, work with them via cloud and share your designs with people from all over the world. Export your 3D-models to industry-grade formats such as STEP, STL and others for convenient transfer to your 3D printer.

Revolutionize your design-workflow with flyingshapes, the CAD entirely reimagined for virtual reality.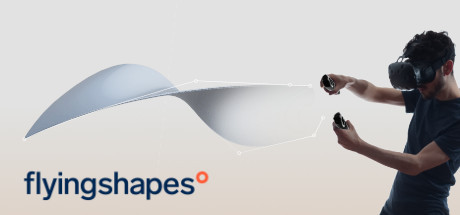 Fecha de salida
Enero 31, 2020
SOs compatibles

Windows
Entrada
Controladores de movimiento
Idiomas
Voces en inglés

Textos en inglés