SuperManual gives anyone the ability to create an immersive experience. Create worlds and use superpowers to make your content mind-blowing. SuperUsers can use create content, test concepts, or to present an experience to others. For visitors, it's a free application that works with the Oculus Rift and HTC Vive.

Create a new world for work
Think of worlds like a working document. Now imagine moving around inside this document and interacting with all of your content. You can use worlds to work on your various solo projects or design content to be shared with others, like a presentation or training experience.
Make a scene with objects
Start making a scene in your world by bringing in 3D objects from our free Core Pack—a collection of over 500 editable objects including basic shapes, trees, rocks, furniture, interiors, homewares and more.
Import images, video and sound
Enhance your world with images, video and sound. Access media much like objects, physically bring them into your world and place them anywhere or on anything.
Make it yours
Add texture, finish, colours to objects from the Core Pack. Both objects and media can be scaled and you can make them float in the air or have gravity. If you need to make a note or place a message somewhere you can easily create text.
Custom Objects and FX
Need more than the Core Pack? Just ask and once made your pack is added to your collection within SuperManual.
Bring your content to life
Create real-time interactions and sequences, much like a game or live presentation. If you plan to share your immersive experience you can switch between working and preview mode to plan out what your audience sees, and when.
See it, share it
Take people through your experience by publishing your world.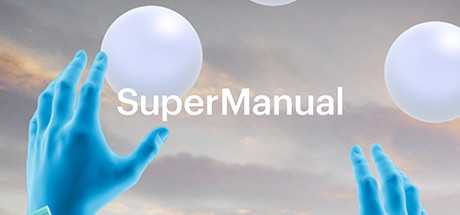 Fecha de salida
Sin confirmar
SOs compatibles

Windows
Entrada
Controladores de movimiento
Idiomas
Voces en inglés

Textos en inglés