The Mayor of Flavortown has been murdered and YOU are the prime suspect. After waking up from a hazy fever dream you're apprehended by the Flavortown Spaghetti PD. To save yourself from being locked up with Meaty Joe you'll have 48 hours to hunt down the crucial evidence to prove your innocence.

Explore the colorful and animated world of Flavortown as a Spaghetti Police Department rookie. Investigate the Waffle Watchers, Billy Bonka, and the Garlic Bread Mafia in a wacky adventure with two buddy cop protagonists by your side. Pick up clues, question suspects, and solve this spicy murder mystery whodunit to finger the guy who really murdered the mayor!

This game features:
Fully automatic firearms & a functional gun range - Treat your itchy trigger finger in the Spaghetti PD shooting range all while minding the mandatory safety precautions!

Gourmet BBQ candies made by famous saucatier Billy Bonka - The packaging warns about some minor side effects when ingested.

Loose cannon cops who don't play by the rules - Join this rag-tag duo of buddy cops in solving the biggest crime to happen yet in Flavortown history.

A serene and accurate cooking simulation - Don't mind the possible fire hazards or the constant yelling over your shoulder.

A vigilante hangout deep in the woods - Try not to catch tetanus...

Guest voice acting by our friends from CROWSCROWSCROWS - Two amazing guest appearances by the creators of Accounting VR and The Stanley Parable.
--

Flavortown was a project thrown together in half a week for a game jam before our team decided to work on it further. We committed to finishing the unique storyline and making our original idea into a full-fledged game. This is our first ever VR title produced under our new development team name LHOTI (Last Hope of the Internet.)

We have sunk hours upon hours of our lives into this project and hope you enjoy your time in Flavortown! Make sure to check out our music, videos, and other content in the external links section. We are looking forward to putting out more of our game titles in the following year.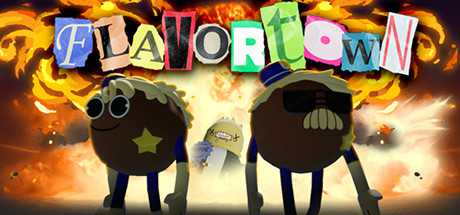 Fecha de salida
Mayo 17, 2019
SOs compatibles

Windows
Entrada
Controladores de movimiento
Idiomas
Voces en inglés

Textos en inglés