VR Party Pack brings living room family fun to virtual reality. Play a classic game of hangman, or try and describe a object using only certain words. Every game supports four players, each connecting using our app, so grab yourself and three of your favourite (or not so) friends or family and have fun!

Roomscale VR Experience
Knuckles Controller Support
HTC Vive and Oculus Rift support
Multiplayer Support (1 player VR, 3 player mobile)



Back to school! Picking up a pen and drawing is the aim of the game here. Other players will choose words for a player in VR. The player in VR will make draw each word one after another. Players will earn more points for answering quickly and less for answering slowly. Once one person has guessed correctly, the next word is drawn.



Jump into a virtual TV studio and team up with a friend. In this team based head to head, describe objects in a few carefully chosen words in the quickest amount of time. Each object your partner guesses correctly gains points.



Play a classic game of hangman where you can really be in the action. Build the hangman's structure using your own hands, with real objects. Each player takes it in turns playing in VR, and the other three guess letters and earn points for choosing correctly.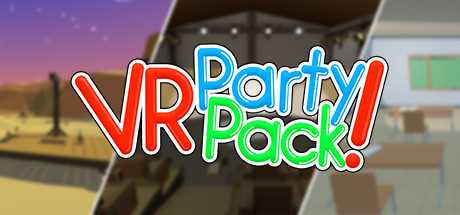 Fecha de salida
Mayo 3, 2019
SOs compatibles

Windows
Entrada
Controladores de movimiento
Forma de juego
Escala de habitación
Idiomas
Voces en inglés

Textos en inglés