Just straight into the action with Onslaught VR! Multiple guns, AOE attacks, flight... all this and more is at your disposal. Take to the skies with the mobile gun platform and fly freely across the map, knocking back creeps as you go. 6 gun modes are currently ingame, with more on the way. Automated turrets are automatically build to aid in your defense, and devestating commander specials are accessible from the palm of your hand. You can rain meteors from the sky, freeze enemies, give your turrets a huge buff... in addition to all the shooting you'll be doing. It takes courage and strategy to overcome the Onslaught - think you have what it takes?

Features
Fly and attack enemies from the air with the mobile gun platform
Multiple gun types and modes, from machine guns to rocket launchers
Face off against dangerous enemy commanders with powerful abilities and buffs
Multiple AOE attacks, from meteor storms to exposing the weaknesses of your enemies.
2 developers dedicated to bringing you a great game and even more new content!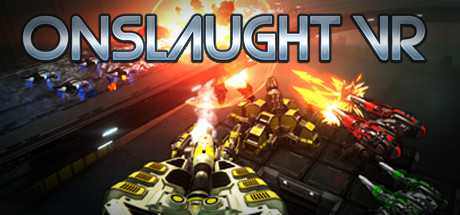 Fecha de salida
Final 2020
SOs compatibles

Windows
Entrada
Controladores de movimiento