Larkin building by Frank Lloyd Wright (PC)
The Larkin Building built by Frank Lloyd Wright in 1904 is one of the most famous office buildings off all time. It has been demolished in 1954 and there where no color pictures of the building untill now...
This beautiful architectural building is brought back to life with atmosphere and beautiful music. Wonder around and see what a true artist Frank Lloyd Wright was.

If you love architecture, art or beautiful space this is the VR experience for you. In the Larkin building experience there is a exhibition of the famous Wasmuth portfolio of Frank Lloyd Wright. This portfolio with beautiful drawings was a true inspiration of famous architects like Le Corbusier, Mies van der Rohe, Walter Gropius and Gerrit Rietveld.

In this VR experience you can walk through the building and explore the spaces, furniture and atmosphere. You can pick up photographs of the building and listen to music throughout the building.

Welcome to Frank Lloyd Wrights Masterpiece.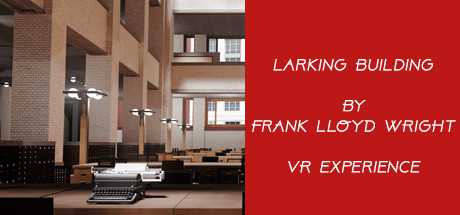 Fecha de salida
Mayo 22, 2018
SOs compatibles

Windows
HMDs compatibles

Steam VR
Entrada
Controladores de movimiento