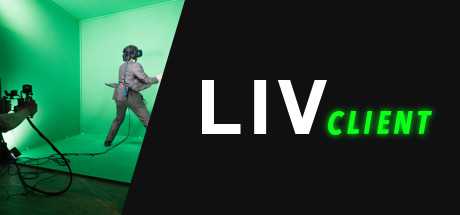 Fecha de salida
Febrero 10, 2018
SOs compatibles

Windows
The LIV Client is the free Mixed Reality compositing tool that simplifies, and enhances any Mixed Reality capture. The LIV Client supports OpenVR and is compatible with a large library of games, with more being added on an ongoing basis.
This is a continuation of the OBS Mixed Reality filter! It's an early access release and we're still working through some bugs + implementing some quality of life features & changes. Expect some bugs while we work through the early access period and join our Discord to report bugs and suggest features.
NOTE: This release does
not
include our Avatar, Voice controls and 3rd person camera technology. We'll be releasing those when they are ready, and you can access the beta testing as we get ready by sticking around in our Discord!
Supported games:
Tabletop Simulator

Tilt Brush: Lighting Effects

Hover Junkers

#SelfieTennis

Sairento VR

Audioshield

StandOut VR Battle Royale

Beastpets

Space Pirate Trainer

Holodance: Fully Integrated

Racket: Nx

Windlands

Hot Dogs, Horseshoes & Hand Grenades

TheBlu

Holopoint

Cyberpong

Rick and Morty: Virtual Rick-ality

Fruit Ninja VR

Soundboxing

Climbey

Bitslap

Hot Squat

Cosmic Sugar VR

EXA: The Infinite Instrument

Bottle Flip Challenge VR

Richie's Plank Experience

God of Arrows VR

Arcade Saga

Bullets And More

+ more
Features & Benefits
Choose your capture device

Manage your keying settings

Pick output frame rate and resolution

Set camera calibration settings

Automatically capture any running game

Show the final output on an overlay in-game, so you can see what the viewer sees while in the headset

Significant performance boosts for compositing MR
Connect with us & join the team!
We've got a community of streamers, developers and VR enthusiasts. Find us in our Discord!
Your friends at Team LIV