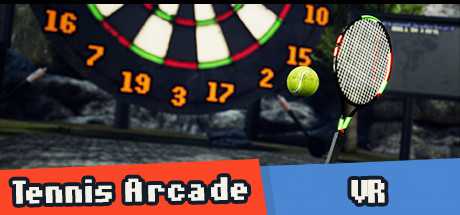 Fecha de salida
Diciembre 29, 2017
SOs compatibles

Windows
Entrada
Controladores de movimiento
Forma de juego
Escala de habitación
Tennis Arcade VR is a fast paced game that combines tennis with other popular games and sports. You can play solo and try to beat your high scores or play with your friends in local multiplayer and compete against them. Currently you can play 5 different games:
Barrels - Knock down all the barrels

Cards - Hit the most valuable cards available while avoiding the jokers

Darts - Play darts on a a huge darts board

Football - Try to score against our professional goalkeeper (also try not to hit him too much, he has feelings)

Basketball - Get the ball through one of the hoops, more difficult hoops give more points
You can also choose in which location you want to play. For now we are offering 3 different locations, stadium at night, a beautiful park in the middle of metropolis and a peaceful lake side. The game also uses only one controller.
We had so much fun developing this game, and we hope you will enjoy it as much as we did !
Features we are currently working on and things we're planning to implement in future updates:
More games and environments

Online leaderboards

Steam achievements (improve your skills through challenges)
*This game is certified by fitness instructors as a replacement for a shoulder workout
***WARNING: Be sure to tie up the armbands on your controllers, or you will break things and people around you like we did***