connect - your virtual home (PC)
We are introducing you to a virtual home (in 2D, 3D, or VR), in which anything is possible: social networking, chat, video telephony, photography, listening to music, reading, surfing the web, furnishing your apartment, playing games, petting your virtual pet, or simply relaxing. Immerse yourself into the fascinating world of connect!What Is Connect?
Describing an app that offers unlimited possibilities is not that easy. However, we want to provide you with a short summary of all the things you can look forward to in our innovative project. connect is a Digital Life Network that is free of charge, and can be experienced in 2D, 3D, or VR (with VR glasses). In this app – which is compatible with almost all devices – anything internet has to offer is possible. In your virtual loft, which can be accessed through your smartphone, your tablet, your Mac or PC, or your gaming console, you can stream music and videos, just to give one example. Further, you can answer messages, read newspapers, or play games.Customizable and expandable Virtual Home
The entire app is customizable to the minutest detail, and therefore perfectly matches your personal taste. Customizability begins with the furniture and accessories that can be found in your loft, and continues to the choice of view from your window, or your own handwriting. You are an art-lover? Go ahead and decorate your loft with art from a diversity of artists, your own photography, or own art.Multimedia
You prefer following the news in international media? Thanks to a worldwide media-cooperation, content of various big newspapers and magazines will be available to you free of charge, likewise films, radio programs, and web portals.Games and Virtual Pets
You are looking for distraction from your school-, university-, and office-duties? Go and pet your virtual pet, or play some simple games.Intuitive
Sounds complicated? Don't worry – due to our easy operability, all our app functions can be found quickly and easily. This is a the result of our photo-realistic depiction of objects, into which we have put a lot of effort, know-how, and love. With all that, you can operate everything just like you would in real life.Multi Messenger
In the organizer on your virtual desk, you can unite all your contacts from a wide range of online networks, and reach them via a virtual letter. This is true for the phonebook- and email-contacts, but also for friends from other social networks or messenger services. You can, therefore, from the beginning, reach more people from connect than from Facebook (because Facebook becomes integrated into connect), even though they might not be using connect yet.Device Independence
It is our goal to give you as much freedom as possible. For this reason, you can access your virtual home from almost every device. Whether from your smartphone or tablet (currently only on Android), PC, Mac, Linux or VR-Headset (HTC Vive, or VR glasses for smartphones like Samsung Gear VR) – you decide how you want to use connect.

We estimate that by the end of 2017 we can support the use of most other mobile operating systems (iOS, Windows Phone), VR glasses (Oculus), gaming consoles (PlayStation and Xbox), Samsung TV and long term a web-version which is directly available from the browser.Data Security and Encryption
Another special feature of our Digital Life Network is that we – unlike our competitors – do not intend to collect our users' data. Our number one aim is maximum data protection and keeping the user's personal privacy. Messages sent via connect are end-to-end encrypted; through our individually customizable user interface, each user only reveals as much as he or she wants.

As we are therefore unable to sell personal information (and do not want to, either) we started looking for alternative sources of income: We will finance our business through voluntary product placement, in-app-purchases, and virtual shopping. This way, our app can remain free of charge forever, and will operate without forced advertising, and guarantee maximum data protection at the same time.Interfaces For Users & Partners
Are you fed up with having to install a new app for each separate function? Or that your favorite software is not compatible with every hardware? Have you ever been annoyed that your different circles of friends are available on various different networks?

To get rid of these unnecessary irritants it is our goal, with combined strength, to build a network which unifies all the different digital contents and features, and where the utilization and operation is as easy as possible. For this purpose we have created a platform, where our Partners – and you too! – can upload content. Our partners will be uploading, among other things, 3D models of new objects or furniture, media content such as newspapers, magazines, books, TV or radio programs, or link connect with existing messenger services. You can upload art work, photos as decoration, animated GIFs or videos, sounds, or 360° photos for an alternative view from the loft, and determine who has access to it.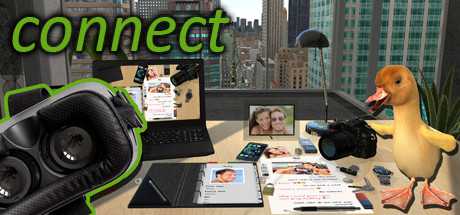 Fecha de salida
Octubre 27, 2017
SOs compatibles

Windows