OzGrind Virtual Reality Showroom (PC)
Brick and Mortar is so old school. Let's get digital! Expand your showroom infinitely with a Viewport Virtual Reality Showroom.

Originally created for OzGrind to showcase their range of polished concretes in Virtual Reality, see for yourself how a Virtual Reality showroom is the way of the future. Unlike a brick and mortar showroom, Viewport's virtual reality showroom can be expanded infinitely and with no limit on the amount of product samples that can be displayed. As new products are released they can easily be added to the application without the need to reallocate physical space. Products can also be displayed in a variety of real world situations that would otherwise be prohibitively expensive or simply impossible to replicate in a physical showroom.

Viewport meticulously recreated every material in 8K resolution, allowing users to get as close as possible to the floor without any degradation in visual quality. This high fidelity of surface materials is of paramount importance .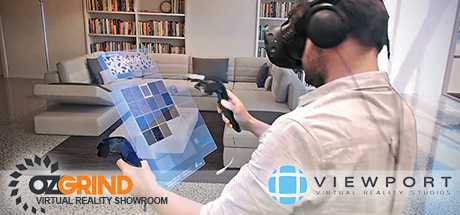 Fecha de salida
Julio 3, 2017
SOs compatibles

Windows
Entrada
Controladores de movimiento