Vee Rethak - Deep Under The Mountain (PC)
After spending an evening in a tavern in the company of three dangerous looking strangers you wake up, slightly hungover, near the entrance of a dungeon known as "Vee Rethak's Lair". Apparently, you boasted that you could get to its deepest level armed only with a lantern, and your three companions took your word for it. It seems a bit late to correct the mistake now, so you better get going and at least try to find something worthwhile in the tunnels some ancient race dug underneath the mountain ...

Vee Rethak is a VR dungeon crawler in the vein of Rogue and NetHack

Its main features are :

* Procedural dungeon : each level is generated randomly when you start a new game (or when you die)
* Sword fighting.
* Skill based magic system : being a spell caster involves more than just pressing a button or drawing a symbol.
* Permadeath : the game's design was influenced by Nethack and, similar to Nethack, the player has one single save file which is deleted upon death.
* Includes a music randomizer taking your own tracks to create the mood YOU want.

Please check the documentation for hints on how to calibrate the magic system and setup the music!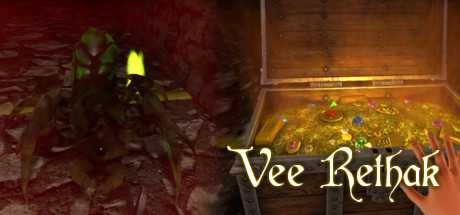 Fecha de salida
Junio 12, 2017
SOs compatibles

Windows
HMDs compatibles

Steam VR
Entrada
Controladores de movimiento
Forma de juego
Escala de habitación