About Us

"War of Castle VR" is a multi-player MOBA VR game.You can fight against computer AI or other players. Unlike traditional games of this genre, it delivers a more realistic battle experience and deeper interaction. Its highly-immersive gaming environment and intense battles puts players directly onto the combat zone.

Gameplay

As the hero, you will use various weapons to attack the enemy's Guard Tower, troops and heroes. Use the Ballista to quickly destroy the enemy Guard Tower blocking your path. Destroy two towers to score a victory

During battle, prevent the enemy's hero from attacking your troops and Guard Tower, and protect yourself from attack by the enemy's hero and troops. Reviving after being killed takes time, and the enemy may use this opportunity to attack your troops and Guard Tower.

Several neutral bosses will be refreshed at regular times throughout the game. They possess distinct, powerful skills to attack on a large scale. You can capture these bosses and use them to attack the enemy's troops and hero. Seizing the control of these bosses at the right time may reverse the battle outcome.

Features

1.Supports multiple player battles. Train alone in various difficulty levels.
2.Various ways to interact and a multitude of weapons, including Bow, Ballista, Snipe Crossbow, Grenade, Broadsword and Light Shield.
3.A range of battle types, including air battle, melee attack and artillery battle.
4.Perfect combination of MOBA and VR delivers realistic battles and thrilling fun factor.
5.Several battle strategies, including killing heroes, supporting route and capturing neutral bosses.
6.Capture neutral bosses to reverse battle outcome.

Weapons

1 Ballista: Ranged weapon for attacking a city, can be used to destroy the enemy's Guard Tower and attack the enemy's hero and troops within range.
2 Snipe Crossbow: Sighting telescope helps to accurately attack long-range enemies, easy to control, only moderate attack level.
3 Bow: Deals highest level of damage on a single target and quickly dispatch the enemy's hero and troops, requires practices to enhance accuracy.
4 Grenade: Medium range and melee weapon, used to attack the enemy's troops within range, attack level slightly lower than Ballista.
5 Light Shield: Used to block Bow, Crossbow and Monster attacks, also reduces damage caused by bosses' skills and Ballista.
6 Broadsword: Melee weapon, used to attack melee troops climbing the gate tower.

Bow is a two-handed weapon. All other weapons can be used while wielding a shield.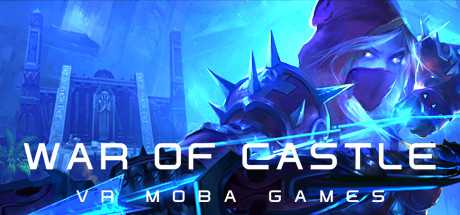 Fecha de salida
Marzo 13, 2017
SOs compatibles

Windows
HMDs compatibles

Steam VR
Entrada
Controladores de movimiento