Super Cat Herding: Totally Awesome Edition (PC)
SummaryWelcome to Super Cat Herding: Totally Awesome Edition! Guide your cute, chaotic, invulnerable, minions with a range of tools and abilities, from the mundane, to the unexpected like fire breathing, to the absolutely insane for you to discover!FeaturesAdorable kittens: cute, highly destructive, yet oddly indestructible...
Over-the-top tools and abilities: choose from the mundane like laser pointers, the slightly absurd like highly caffeinated treats, to the insane like fire breathing…
Highly destructible world: if you can get your cats to actually do what you want...
Play your way: Typical keyboard and mouse work great, or get even closer to your menacing balls of chaotic fur in your Vive headset!
Herd the developers: Post and vote for new features. There is a lot of hilarious potential, and we would love to hear from you!Totally Awesome KarmaThis game would not have been possible without the existence of our kitten overlords, so one dollar of each sale goes towards a charity of the community's choice. Get your karma while you get your mayhem! Visit our Reddit community for details.Why is this the Totally Awesome Edition? Where can I get the regular edition?Umm… it's a game about destructive cats. So it's totally awesome by definition! There is no "regular edition" when invulnerable cats are involved.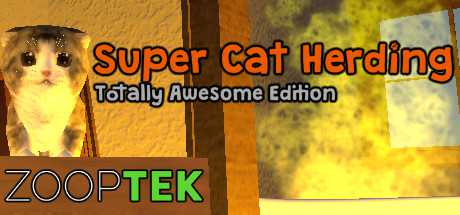 Fecha de salida
Febrero 18, 2017
SOs compatibles

Windows
HMDs compatibles

Steam VR
Entrada
Controladores de movimiento