Game Synopsis

Sky Climbers is an Adventure/Platformer game developed for the HTC Vive. As a lost adventurer, you stumble across an ancient beacon, that when activated transports you to magical new world. Use your amazing climbing abilities to reach new heights, fling yourself over large gaps, and even jump from wall to wall. As you progress through the game you will unlock more items like a bow and arrow, and a magnetic multi-tool which lets you interact with the Sky Climbers technology. The game also features a full soundtrack that has been composed to compliment the developing narrative.

Early Access Features:

- Single Player Campaign

- Rock Climbing / Tree Climbing

- Aerial "parkour" obstacles

- Equippable items

- Cinematic sequences

- Full Original Soundtrack

- Large low poly landscapes

Scene Descriptions and Content:

Opening Scene : You start on a small boat that is traversing through a magical cave. After this sequence you arrive on a small island inside of a large canyon. This scene requires the player to climb up the top of the building in the center of the island.

Garden of Time (Hub) - This is the main area which the game will take place. The garden of time is a large, open environment filled with lush foliage and a pristine lake. Our first NPC character is also found in this scene inside of a giant treehouse. This scene also leads to 3 "Dojos" which are part of the games narrative.

NPC Treehouse - The early access launch will only include one NPC, but inside of his house you can interact with the character and many of the items inside of the treehouse. His persona is in its very early stages of development, therefore his voice consists only of short grunts and the interactive components only include grabbing objects in the house. In the future NPC characters will either speak or provide text for conversation and may even prompt the player to embark on quests for items or challenges!

Dojo Scenes - The early access launch will include 3 dojos that get progressively more difficult and build upon previously learned mechanics. The dojos are essentially a climbing obstacle course that tests the players skills.


Future Updates

Over the course of the next 6 months after launch, the Sky Climbers Dev team plans to add considerable amount of narrative content to the game as well as multiplayer functionality. We plan on releasing updates for the single player story in "chapters" which would mean new scene enviorments (Forest tree climbing, cave spelunking, more Dojo challenges, etc) As we spend more time on the project, we will most likely change some of our art assets and touch up areas that need it.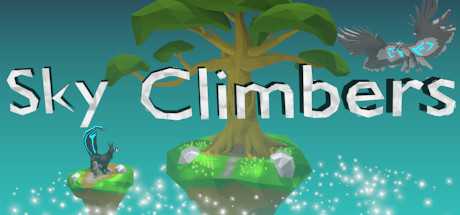 Fecha de salida
Febrero 3, 2017
SOs compatibles

Windows
HMDs compatibles

Steam VR
Entrada
Controladores de movimiento