The Age of Machines has passed. On a distant planet named Ginkgo, the Workshop rumbles to life and you awaken, a rusty old robot created with a singular purpose: to deliver Phil the Eternal Flame to the Final Station and complete the Pilgrimage of Steel!

Gather a crew and embark on a journey through motley environments on your armored locomotive. Battle the Gazzlers, insane native creatures riding their mechanical contraptions, dead set on stopping you in your tracks. Collect artifacts left behind by the enigmatic Apostles to build crazy weapons, gather resources and uncover the ancient mysteries of Ginkgo.


Pilgrimage of Steel
Embark on the Pilgrimage in your trusty locomotive to find the Final Station, the lost Temple of the Machine God! Complete the old archives and unravel the many secrets of this world… Piece together the story of Ginkgo and learn the truth behind the mystery of the Eternal Flame!



Fight the Gazzlers
Fight hordes of Gazzlers, each one unique in their methods of taking you down! They've got monster trucks, hippie vans, trikes, bulldozers, tanks, party buses, even ZAMBONIS! If it's got wheels, the Gazzlers will find a way to make it work. And if it doesn't, they will still try. Discover the different strategies behind their crazy clunkers and how they function so you can find the best way to beat them.



Ride and Die
Each time you take on the Pilgrimage will be a unique journey. GAZZLERS features a roguelite-inspired encounter system, exposing players to new enemies, weapons, upgrades and challenges every run!



Build Crazy Weapons
Unlock various components and mods that impact the workings of your gun in unique ways. Combine and upgrade the parts you find on your Pilgrimage to create a weapon so insane, it just might work.

Band Together
Up to 4 players can combine their strengths to take on the Pilgrimage together in player-hosted co-op play.


We have a lot of awesome things planned for GAZZLERS! Starting with the early access launch in 2022, we will release a set of updates, each expanding on the game. These updates will include new systems, enemies, weapons, characters, biomes, cosmetics, challenges and more!



You can check out the full roadmap on our website!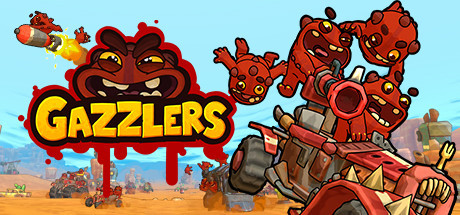 Fecha de salida
Primer trimestre, 2022
SOs compatibles

Windows
Entrada
Controladores de movimiento
Idiomas
Voces en inglés

Textos en inglés