Right after the Halloween Battle
Due to invasion of demons the sky and the earth blackened in London, trees disappeared, buildings collapsed badly, and rivers dried up to the bottom.
Survivors begin a community life under the command of Templar Maxine to find ways to survive.
Years later, community life, which began to escape the eyes of demons, began to reach its limit due to insufficient resources. Dreaming of a counterattack against demons, people made many anti-aircraft guns, but the first enemy of the Salvation Army was the survival of humanity, not the demons.
After much consideration, the Salvation Army leadership will carry out 'Operation CLAPHAM' to air-deliver food and water stored in London underground shelters to the Templar base.
Since the London underground shelter is located in the northwest and southwest regions far from Templar Base, there is a high risk of being spotted by demons during the operation.

However, there is now no place to hide anymore.
For the survival of mankind, at the risk of their own lives, someone has to go out of the shelter.



Hellgate VR is a VR Shooting game based on Hellgate:London IP, and provides a high level of immersion to players through a sophisticated virtual world.
> You can experience the post-apocalyptic atmosphere of Hellgate:London more vividly in a sophisticated virtual world.
> Experience the battle against demons by boarding a vehicle, train, or helicopter.
> Experience dangerous cliff roads and dynamic water slides.
> Experience realistic battles with giant bosses.



Experience endless action in the Hellgate VR world full of dynamic stories that take place for the survival of mankind in the battle against the devil.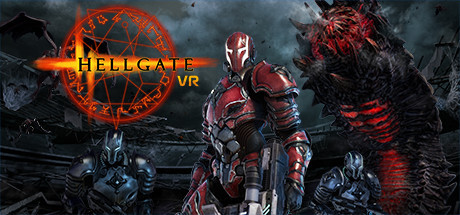 Fecha de salida
Marzo 31, 2021
SOs compatibles

Windows
Entrada
Controladores de movimiento
Idiomas
Voces en inglés

Textos en inglés