eXpanSIM is a universal vehicle simulator that supports VR and lets you:

train the technique of driving cars and trucks,
test your strength in competitive driving,
validate new solutions and conduct experimental research.
eXpanSIM aims to capture the realism of driving cars and trucks of different types (petrol, diesel, and electric). The game offers a range of different locations including urban environments, race tracks, and off-road routes. Driving in VR mode is optional.

The project is powered by an original vehicle physics engine designed for professional applications. It was developed by Raving Bots, a Polish indie studio.Driving school
Improve your driving skills. Learn the principles of eco-driving and hone your driving technique. A range of specially designed training scenarios will lead you to perfection.

Racing
Prepare yourself for a high realism and an extreme level of difficulty. There will be no driving assistance systems (unless they exist in real vehicles). You've been warned.

Research testbed
Communicate with the simulation using a convenient API. Conduct a series of experiments and collect results easily. eXpanSIM is a modern tool for engineers, designers, Artificial Intelligence researchers working on autonomous vehicles and more.

Vehicles
Currently available vehicle types:

formula car,
muscle car,
limousine,
city car,
pickup,
van,
city bus,
intercity bus,
fire truck,
off-road truck,
lorry (with a semitrailer or a tanker),
haul truck,
excavator,
dozer,
forklift,
armoured personnel carrier (APC),
mobile gun system (MGS),
manoeuvre combat vehicle (MCV),
main battle tank (MBT).
Vehicle models have right-hand and left-hand traffic variants as well. We are constantly expanding the collection of available vehicles. In the near future, the drones will be added.

Equipment
To fully experience the potential of the simulator, it is recommended to use a steering wheel with pedals. The game supports popular VR equipment such as HTC Vive, Oculus Rift, and Valve Index.Work in progress
The project is currently in closed beta testing. Contact us if you would like to get access.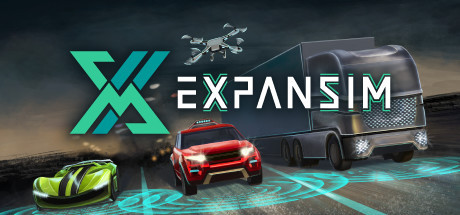 Fecha de salida
Agosto, 2022
SOs compatibles

Windows
Forma de juego

Sentado
Idiomas
Voces en inglés

Textos en inglés