Crystal Raiders VR is a multiplayer Virtual Reality game with action-filled activities in an ancient castle combining a peaceful medieval-like environment with steampunk elements. Adventures full of action await the ones who dare to enter maze-like fortification filled with guards, traps, puzzles and treasures.

Choose your weapon and then it's up to you to decide on your favorable activity. Complete a set of handcrafted levels, fight the crystal guardians of the castle and unravel the mysteries of the forgotten Wizard Lord. Be it alone or with your friends, you can be a part of the community of raiders!

Crystal Raiders VR invites you to meet and play with other "Raiders", talk to them in real-time and invite them to join you in your tasks. Players from around the world can socialize and compete on the leaderboard in specific activities.



Hand crafted levels - A set of 20 handcrafted levels with increasing difficulty and replayability provides the players with hours and hours of action.
Co-op - Party up with up to 4 players to raid the levels together. More players comes with more weapons and firepower!
Character customization - You can express yourself through different character models, haircuts, clothing, and accessories. You can earn even more unlockable cosmetics by playing the game!
Family friendly experience - All game content is suitable for children, with a friendly environment and cruelty-free combat.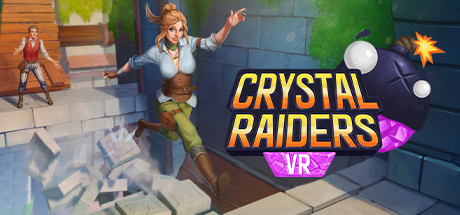 Fecha de salida
Segundo trimestre, 2021
SOs compatibles

Windows
Idiomas
Voces en inglés

Textos en inglés