Azlan: Rise of the Burlpups (PC)
Play Azlan: Rise of the Burlpups in VR with total abandon as you take command of Zalolo Land. While hordes of orcs surrounded by zombie-like mythical creatures attack from all nooks and corners, you master the art of perfect defense. Build different towers on the go as you learn how each enemy reacts. Help the undying Royal Guard charge onto Burlpups. Gain gold with each kill and use the wealth smartly to install new towers, sell or upgrade existing defenses. From beautiful forests to lakesides, and castles every battle brings a new challenge forcing you to rethink your strategy.

Setup in a Medieval three-dimensional vertical tower defense map created exclusively for VR to give you a fully immersive Virtual Reality game experience, Ministry of Immersion brings you Azlan: Rise of the Burlpups.

Features Eight breathtaking stylized maps.
Over 30 Burlpups including ground and flying creatures.
Command your hero, defend your land and fight with enemies in a table-top VR game.
Multiple turrets with 3 levels of upgrades.
Immersive virtual reality experience in medieval setting.
Unique storyline lets you explore and defend the land of Zalolo people from the fury of burlpups.
More than 7 Hours of gameplay with 15 achievements.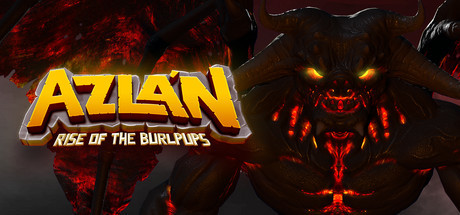 Fecha de salida
Diciembre 15, 2020
SOs compatibles

Windows
Entrada
Controladores de movimiento
Idiomas
Voces en inglés

Textos en inglés