SKYLECT is the next generation collaboration & learning software aimed to promote the digital transformation of educational institutions and businesses. In a modular approach, it is intended to provide institutions and businesses with all the requisite criteria that define the ultimate learning, training, and collaboration standards.

SKYLECT is cross-platform ready enabling to leverage VR technologies and PC screen visualization, when a VR headset is not available, in an all-in-one software solution. Users can easily connect to learn, work, interact and collaborate in sophisticated virtual environments with personalized avatars at any time and place.

Session participants, irrespective of their whereabouts, can join in synchronously to share and interact in a highly immersive stereoscopic virtual environment, enjoying unprecedented experiences of common interests and aspirations. Liberated from the requirement of physical presence in a set location, geographic and demographic barriers are eliminated, while social bonds are empowered.

Build for Sharing 3D Content
Share popular 3D file formats (FBX, OBJ) in a virtual environment. You can load up multiple 3D files at the same time. Session participants can explore and manipulate the parts of 3D models.

Interactive Whiteboard
Draw on the whiteboard to facilitate knowledge acquisition and brainstorming in a variety of settings such as classrooms, boardrooms, work groups, training sessions or coaching presentations.

3D Painting
You can unveil your creativity with 3D painting in virtual space.

Quizzes/Polls with images, videos, and sound clips
Stimulate participants with engaging quizzes and polls and discuss performance outcomes on a question-by-question basis.

3D Avatars
Upload an image to create your personalized high resolution 3D avatar.

Presentation Board
Demonstrate presentations (landscape PDF), videos, images, audio clips, and documents (PDF) to everyone in the room and point out areas of focus with a spotlight pointer.

Live Video Streaming
Share your webcam video streaming with everyone in the room.

Private and Public Sessions
Lock your session from external access or create a public session open for everyone and engage with the outside world.

Messaging
Send your messages and questions during sessions and receive instant notifications.

Note Taking
Experience the excitement of note-taking strategy. You can take notes during a session.

Team Invitations
Create your teams and invite users to collaborate. Your team members will receive email notifications for upcoming scheduled sessions.

Session Invitations
Create public or private sessions and invite participants to your virtual rooms.

Pull-up Banner
Upload your custom pull-up banner to show up in your sessions to increase your brand awareness.

Cross-platform Access
You can host and join a SKYLECT session from any modern PC. Dual operation for VR and non-VR usage is supported when a PC-powered VR headset is not available.

Snapshots
Capture snapshots of your scene view and save in image format for sharing and referencing.

Institutions can launch remote delivery sessions providing alternative and productive teaching modules which lead to better learning outcomes. Educators are able to initiate the delivery of fulfilling lessons, and application of diverse teaching strategies, such as problem-based learning (PBL), and thus address a diversity of learning styles. Being able to brainstorm and analyze complex ideas, as well as control the learning progress in real time conditions, tutors can transform each virtual session into a unique learning experience.

Unlike the standard video-conference format, the business community and experts alike can enjoy powerful team meetings, and experiential training opportunities beyond conventional standards. Trainees are enabled to enhance their career skills and be equipped with competitive advantages.

Corporate representatives work in the virtual space together with other participants, freed from the need to travel and change workplaces. Alongside institutions, companies, architecture and construction businesses benefit from enhanced labor efficiency and income inflow, significantly saving on unnecessary expenditure.

As we are aiming to echo a contemporary mindset, we are creating versatile solutions supporting lifelong learning attitudes, and career development pursuits, for the present and future.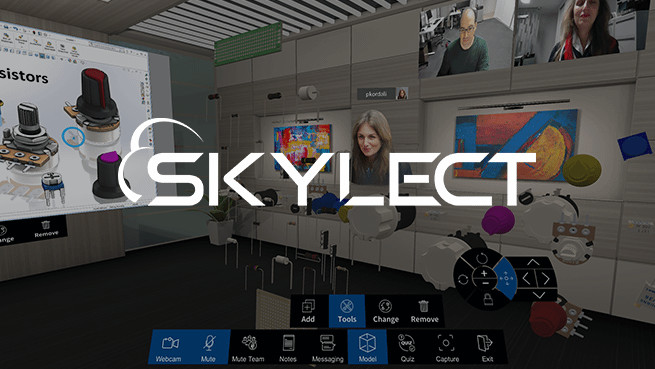 Fecha de salida
Agosto 1, 2020
SOs compatibles

Windows
Entrada
Controladores de movimiento