Location hidden, Al-Andalus, 1205: A wizard has accidentally created a powerful dark corruption that has spread through their tower rapidly.

Your mission is to go on a dangerous immersive journey to restore the peace in the tower. On your journey, you will find a pair of magical gloves that can disable the gravity on an object, allowing you to bring the object to places that seem impossible.



Spellbound Spire uses non-euclidean design to create mind-bending and reality-altering immersive gameplay moments. Previously hidden walkways will become visible, opening new pathways to continue your journey.

To provide you with a fully immersive experience the game uses room-scale movement, every single step you take is purely physical and you'll never once have to use controllers to move around. However, this will not impede you from exploring intricate areas, impossible geometry, and the other mysteries found within the tower.



Option 44 is a student team studying International Game Architecture & Design Programme at the Breda University Of Applied Sciences. Spellbound Spire is a game created as an educational experience over the course of a year.

We put our love and care into this project and would love for you to try it out. Feel free to tell us your thoughts on our game!Additional Note:A play area of at least 2m x 2m (6 feet and 7 inches) is required. There's an option to play within a smaller space of 1.5m x 1.5m, but this is not recommended as it makes for a less stable experience and could cause nausea, which some may experience as unpleasant.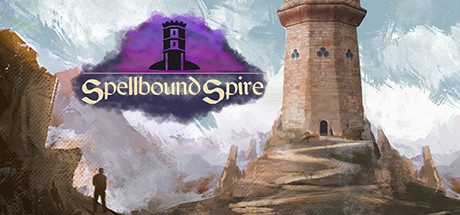 Fecha de salida
Junio 23, 2020
SOs compatibles

Windows
Entrada
Controladores de movimiento
Forma de juego
Escala de habitación
Idiomas
Voces en inglés

Textos en inglés