The Holy City - Documenatry (PC)
For thousands of years, Jerusalem has captured our hearts and souls with its indescribable magnetism. Known to many as The Holy City, Jerusalem carries an undeniable spirituality.

For the first time, the holiest sites of Jerusalem have been filmed in Stereo 360 filming. In one of the most complex 360 documentary project produced to date, an inter-faith team of Jewish, Christian, and Muslim innovators brings this unique perspective to the magic and wonder of Jerusalem.

The innovative documentary experience captures this energy and invites pilgrims and travellers alike from around the world to immerse themselves in Jerusalem's Old City through a transcendent stereoscopic 360 degrees Virtual Reality Documentary. Beyond what a traditional documentary could offer, VR has the power to affect the user in ways that mirror actual experience, making you feel as if you are actually here.

Through exclusive relationships with key local religious figures, you are granted unforeseen access to key Holy sites throughout Jerusalem; including The Western Wall, The Holy Sepulchre, Al-Aqsa mosque and The Dome Of The Rock.

For the first time, these sacred sites are presented in an all-access way; bookmarked by their holiest events, The Orthodox Easter celebrations at the Holy Sepulchre known as the Holy Fire ceremony, the Ramadan prayers at the Al Aqsa Mosque, and the Priestly blessings at the Western Wall.

Since 1992, there has not been a month when all three Abrahamic religions have celebrated Passover, Easter and Ramadan all within the same month. Traditionally, for thousands of years, believers have been coming to Jerusalem on a pilgrimage during these festivals. However, this year, is different, and the COVID 19 pandemic has limited travel and public gatherings.

The Holy City will be offering this exclusive experience for free for a limited time only, from the first day of Passover (April 9), through Easter weekend and continuing on until the first day of Ramadan (April 24) – allowing people to connect to Jerusalem and unite in these difficult times and offer an immersive experience of these special moments inaccessible this year.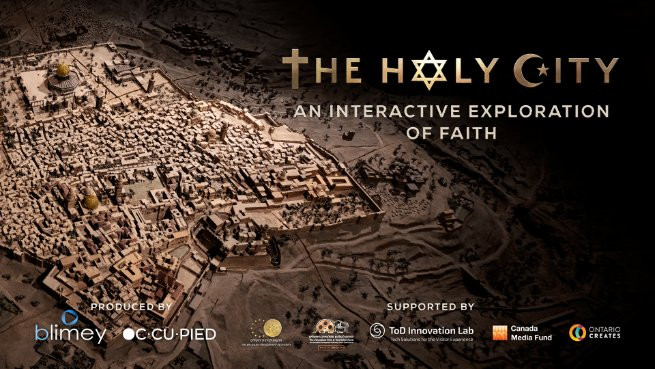 Fecha de salida
Abril 7, 2020
SOs compatibles

Windows
Forma de juego

Sentado
Idiomas
Voces en inglés

Textos en inglés