The Incredible VR Game Show (PC)
No auditions required. Put on your VR headset and be a contestant on the greatest game show of all time, The Incredible VR Game Show!

Play The Incredible Game Show anyway you want. With 10 mini games, single player and local multiplayer modes, there's something for everyone.Challenge your friends and family in game show mode
In this mode, up to 4 contestants take turns playing 3, 5 or 7 random mini games (from selection of 10). Each mini game ranges from 60 to 180 seconds long. This mode is the perfect way to share the VR experience with your friends and family in a fun and friendly competitive environment.Master your skills in practice mode
Want to dominate any and all contestants? Practice makes perfect in practice mode. Play with up to 4 players and become the best game show contestant of all time!Takeaways
A great value - For $1 or less (depending on discounts) per mini game, you can enjoy the best of VR and share the experience with anyone you want.
Try lots of different mechanics without having to buy 10 games.
The Incredible VR Game Show is an excellent way to show off your new VR hardware to friends and family.
Entertain everyone in the room with spectator mode.
Gameplay is turn based, fun and sociable similar to Wii Sports/Wii Play.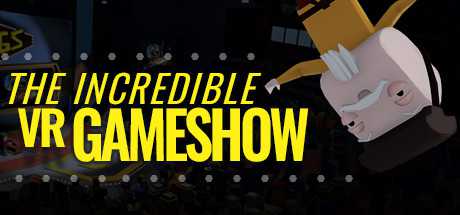 Fecha de salida
Marzo 1, 2018
SOs compatibles

Windows
Entrada
Controladores de movimiento
Forma de juego
Escala de habitación