Vroom Kaboom Premium (PC)
VROOM KABOOM is a brand-new type of gameplay experience. A "Tower Rush with Vehicles", this game combines elements from collectible card games, tower defense and multiplayer online battles. With a wide variety of physics driven ground and flying vehicles, VROOM KABOOM is a crazy mash up of emergent action gameplay and tactical choices. Engage in 1v1, 2v2 or 3v3 battles and even take to the roads in our full featured VR mode!DEPLOY, DRIVE, DESTROY!Strategically use your cards to summon vehicles and DEPLOY them on the battlefield. DRIVE, jump, shoot, bomb and ram your way to victory! Crash into your enemy's vehicles, blow up their defenses and DESTROY their oil tanks to secure victory.
DECK BUILDINGWith over 70 different vehicles and units to choose from, build a deck that fits any strategy and playstyle. This DLC upgrades you to our "PREMIUM" version of VROOM KABOOM. Unlock ALL PREMIUM cards for ALL factions, giving you immediate access to 40 playable vehicles.


Our range of PREMIUM vehicles includes RARE & LEGENDARY versions of the following cards:
SkullBorough
• Rhino
• Mosquito
• SandRat
• Skull Crusher
• War Hog

Drift City
• Yokozuna
• Skeyes
• Ronin
• NightShift
• Tachi

Soul Station
• The Fuzz
• El Bandito
• SledgeHammer
• Scarlett
• Predator

Neutral Cards
The Law

As well as versions of the following cards:
Triple Strike - Common
Ramp - Common
Maverick - Common
Havoc - Common
Rocket - Common
Dirt McGirt - Rare
Charlie - Common, Rare & Legendary

Enjoy the ride!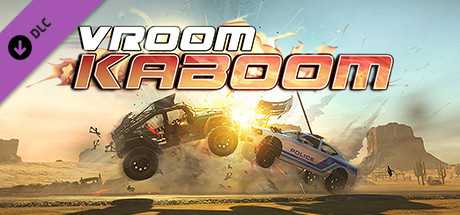 Fecha de salida
Agosto 14, 2018
SOs compatibles

Windows
Forma de juego

Sentado