Sun & Clouds 360° Timelapse - 2D VR Video Experience (6K) (PC)
Come on a journey to far away places and witness Earth's majestic beauty in all its 360° glory as you watch the timeless game of the glistening sun & gentle clouds. Teleport to numerous amazing locations and enjoy the spectacular and cinematic panoramas that will open your heart and lift your spirit.

Versions
This package contains two versions of Sun & Clouds 360° Timelapse -- One360™ and Easy360™. One360™ is a regular 360 degree video with one orientation of each scene. Easy360™️ is an editing technique that allows those with limited range of motion to experience the entire 360 degrees of each scene without the need to turn all the way around. Each orientation of a scene is between 30°-90° different to the previous orientation and by cross-fading between each change of orientation it is a comfortable viewing experience that completely eliminates the feeling of dizziness that is otherwise often experienced with other 360 degree videos that do not use Easy360™️ editing. So you get to see the entire scene without having to turn around, while feeling perfectly fit. Thus, the Easy360™️ version is an ideal solution when enjoying Sun & Clouds on a couch, in a hospital bed or other situations with a reduced ability to turn around, (e.g. in an airplane seat or similarly restricting situations). However, even those with full range of motion can enjoy Easy360™️ because it offers a convenient way to view the whole 360 degrees of each location without getting entangled by headset cables or the need to move beyond the forward facing position while enjoying a relaxing VR video. Compare both versions and decide which one you like best!

Video Quality
To change the video quality, press the up and down arrows on your keyboard to change to higher and lower resolutions or press 'A' for automatic adjustment.

About Atmosphaeres

Atmosphaeres VR Experiences are fully immersive 360° Nature, Travel & Relaxation Videos where you can escape the stress & noise of everyday life and find peace of mind and some desperately needed serenity and sanity.

We hope you enjoy Atmosphaeres Sun & Clouds 360° Timelapse VR Video Experience as much as the thousands of happy users on Steam and other platforms. If you experience any issues or have any feedback on how we can improve our VR Video Experiences to better suit your needs, please get in contact via the link to our website.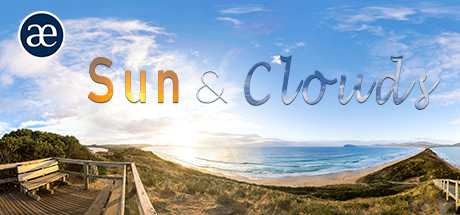 Fecha de salida
Mayo 22, 2018
SOs compatibles

Windows